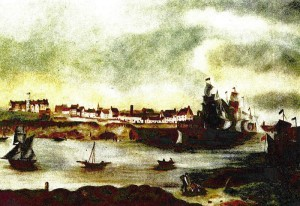 The town of Blyth in Northumberland gets its name from the river running through it. The port has been an important trading post since medieval times, but much of the town's history dates back to its flourishing coal mining, fishing, salt trade and shipbuilding industries in the eighteenth century.
The image to the right shows the port in about 1827 (courtesy of Port of Blyth).
Although shipbuilding can be dated back to 1748, in the 20th century the industry became a significant factor in the running of the port.
The impact of war
The Blyth Shipbuilding and Dry Docks Company existed since 1883, but began to flourish during World War One when the British Admiralty requested: a seaplane carrier; nine tramps and colliers; ten X-lighter landing craft; and six sloops (or 'minesweepers') for the Royal Navy.
There was then a short slump in industry until the Second World War (see Depression), when orders once again picked up. One ship, the Audacity, was an escort carrier converted from an old German cargo ship.


Despite the obvious disruption that World War One and Two brought to the country as a whole, both wars provided ship yards with stability and prosperity.
But by the 1960s, things were quite different.
Economic decline
In 1966 Blyth Shipbuilding Company, one of the largest in the North East, closed during the economic difficulties. Around the same time, near to 30 other shipyards closed throughout the region because there were fewer orders coming in and improved competition from overseas.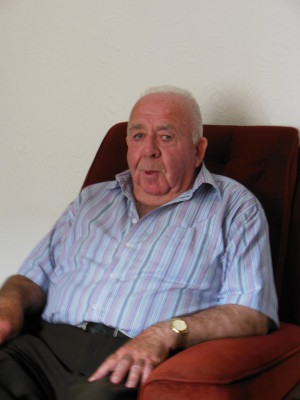 Sustaining the port was made even more difficult in Blyth because the River Blyth is not a natural river. Rather, it is a big 'sump' and needs continuous continuous dredging to keep the depth. This was a costly process which required additional equipment and manpower.
Billy Whinnie worked as a dredger in the 1980s, tasked with maintaining the depth of the river. He explains in this clip that dredging provided a whole line of work in itself.
The Port of Blyth has a collection of oral history interviews with people who were connected to the work of the port. We have included links to some of these below.
Shipbreaking
The Hughes Bolckow Shipbreaking Company operated in Blyth from 1912 until the early 1980s. Shipbreaking involved dismantling ships, using a process that was almost the reverse of building them.
High quality building materials were often used in ships, so these were very valuable: the company had a furniture division that used the recycled wood from masts and decking. Blyth became known for its good quality joinery and woodwork in the 1960s and 1970s. A link below will take you to a film about shipbreaking made in the 1930s.