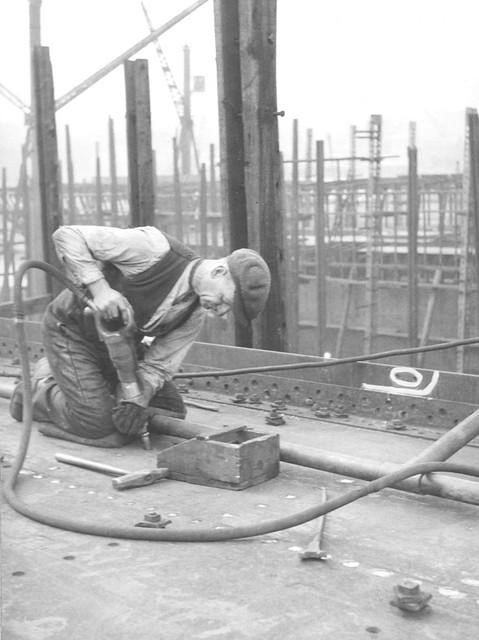 There are a vast amount of jobs involved in building a ship. Many different people are involved with each ship in a range of different ways.
Jobs changed over time, as technology, materials and equipment changed. For example, before WW2, most ships were held together by rivets, but riveters were slowly replaced by welders, as the technology made this more a cheaper and more reliable way to join metal together. The ways ships were designed and sold, and the way the production process was managed also changed over time.
(Picture of a rivetter at JL Thompson & Sons. Image courtesy of TWAM Reference: DS.JLT-5-3-1.2.)
This is a brief overview of the different types of jobs involved in the shipyards. We hope to be able to develop this part of the website, and to add new interviews that explain all the different roles.
Naval architecture and design
Until Austin & Pickersgill's successful SD14 standardised shipbuilding at that yard, almost all North East shipbuilding was custom designed. Ship owners would give their specifications to the design team, who would work out how to turn this into a real working vessel.
From the 1970s onwards, computer aided design (CAD) was important to the shipbuilding process, but for most of the history of North East shipbuilding, designs were created on paper in huge offices using mathematical formulae. For example, J. E. Steele describes his job in the Swan Hunter Steel Drawing Office:
"I calculated scantlings for steel and aluminium structures, and welding profiles ensuring that they complied with regulatory bodies' requirements."
The designs then needed to be scaled up and translated to templates for the raw materials, in a process known as "lofting" because traditionally it happened in a large loft.
Construction trades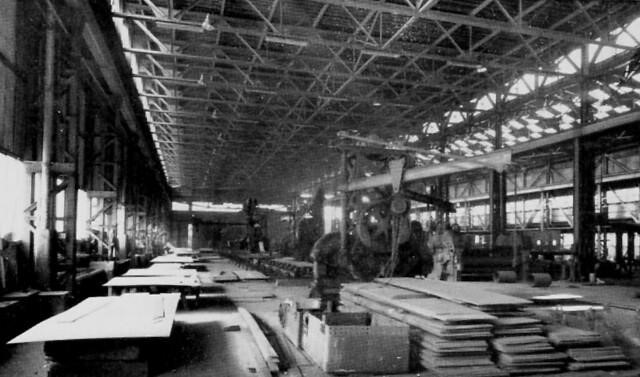 (Picture: Blyth Shipyard, inside the platers' shop. Image courtesy Terry Whalebone)
One the ship was designed, the noisy and dangerous work of construction began. The craft techniques used changed, but included: riveters; caulkers; welders; boilermakers; and shipwrights. Skilled workers often worked in teams and were paid by 'piecework' rates, meaning they were paid a rate for each piece of work they completed, rather than by the hour.
Fitting out trades
Launch days might look exciting, but they were rarely the end of the shipbuilding story. Once the hull and major construction was completed, the ship needed to be 'fitted out', with engines, plumbing, interior rooms and decoration. Shipwrights were also involved here, as well as other joiners; electricians; plumbers; blacksmiths; painters; and general labourers.
Marine engineering
Ships themselves are an amazing feat of engineering. They also include a wide range of different instruments that are designed, created and maintained by marine engineers. All along the North East coast, marine engineering firms supported the industry by producing engines, propellers and other vital equipment. The Doxford Engine became famous around the world, with patents allowing the design to be produced in other countries. People are so proud of this local engineering heritage, there is even a Doxford Engine Friends' Association.
Cleaning and polishing
Once construction and fitting out were completed, more work was needed to ensure the vessels were ready for their new owners. Cleaning and polishing was an important, though often overlooked role, predominantly done by women. In the post-war years, these jobs were sometimes offered to women who, during wartime, had stepped into the 'male' construction and fitting out trades.
The sea trial
The final stage of the shipbuilding process was the sea trial, where the completed vessel was taken for a short voyage to make sure she was ready to hand over to the owners. Although not involved in building the ship, many skilled people were needed for this final part of the puzzle, including tow boat operators and of course engineers.
Management and office-based roles
Shipbuilding was a complicated operation, which involved lots of different skills all working towards a common goal. Purchasing officers needed to make sure the right materials were available to keep work on track. Managers often started out in the office-based roles of design and engineering, and moved up the ranks. The book Crossing the Bar contains oral history interviews with managers, recorded in the 1990s when all but one of the North East shipyards had already closed. They each have their own perspectives about how and why that happened.
Peter Milne, completed an apprenticeship in the engine building department and later became Managing Director of Swan Hunter. He reflects that the UK shipbuilding industry did not respond quickly enough to modernise management and marketing approaches:
"The weaknesses that we had are that generally we did not have enough talented people in management. Rather belatedly, firms started to train and recruit managers who were graduates, and who were well qualified, but the talent was thinly spread… The industry had always been extremely good at craft training, but we had not trained for flexibility and interchangeability…

"We were also weak in marketing. We did not perceive quickly enough that the market had completely changed. At one time when you needed a new order all you had to do was get on a train to London, or go to one of the main maritime centres, see the people you know, talk to them and begin to negotiate for a contract. The marketing was done by the chairman and managing directors and that was quite adequate because they could get all the work they needed. However, when the market changed, we had to go round the world and persuade new people in Hong Kong and other centres. We had no marketing kit, no brochures or anything like that. We had a reputation which we traded on for a while."
The 'supply chain'
In the 1960s and 70s, shipbuilding was the UK's second largest user of steel plate, so there was a clear link between the two industries. However, many other industries supplied materials needed for shipbuilding - a 1975 report suggested that for every 100 direct shipbuilding jobs, 30 were created in other industries. Others have reversed this to suggest that for every 1 shipbuilding job, 3 more were created. This would take into a wider range of links, such as local shops that supplied food, drink and clothing to the workers and their families. Since the closure of the shipyards, local shopping areas in places like Southwick and Hebburn have struggled, and many of the local pubs and working men's clubs have closed.